VW Type 2 Camper - 2007 Danbury Brazilian Import
Price :

20 950 £
Description :
Reluctantly selling my Brazilian Bay. Have had 9 years of amazing camping memories, fun, and the usual admiring looks and waves, and now it's someone else's turn to experience this phenomenon. Not too many Brazibays for sale up North(we're in Blackburn, Lancs), so come and have a gander n a brew. Advertised on eBay & Gumtree. See this link for full details or contact me if any questions.
https://www.ebay.co.uk/itm/VW-Type-2-Campervan-Brazilian-Import-2007-T2-Volkswagen-Danbury-Rio-camper/223577809302?hash=item340e46a196:g:WLEAAOSwcSJc0hzw

This is the eBay blurb if link not working:

2007 Volkswagen Type 2 Bay-window Danbury Rio classic campervan. Own a piece of motor-home history, but with 21st century reliability.
It really does provide a comfortable, practical, quality camping experience; even the opportunity to stop on a day out to brew up or grab a cool drink from the fridge is a joy.

Test drive in Lancashire.

Brazilian import (shipped over brand new in 2007), converted to a consistently high-spec camper by Danbury Motorcaravans in Bristol. Production in Brazil ended in 2013 so this vehicle is one of the last ever classic Type 2-shape conversions in Europe. There are still a few brand new models available via the Danbury website.

Black under white with full chrome trim, including bumpers, headlight rims & 'spare wheel cover'.

Includes loads of extras such as Khyam Drive-Away 'Pop-Up' Awning and 2nd set of (porsche alloy) wheels.

Everything in good condition and mechanically sound.
MOT til May 2020.

Get ready to be the centre of attention!

Comfortably carries and sleeps 4 with double bed, and an additional full size double bed in the raising roof 'pop-top'.

Full fridge with small freezer compartment.

Very effective 2 ring gas hob with powerful grill.

Sink with electrically-powered running water.

Plenty of well-designed storage cupboards for food, crockery, cutlery, and any misc camping items.

The van is internally very well lit with 2 large strip lights in addition to 2 independently controlled, adjustable rear spotlights, controllable from 'bed'.

Four normal, domestic plug sockets come into play when connected to an electric hook-up point. Extra long hook-up cable included, complete with connectors for all home and abroad 230/240v campsite connections.
The onboard power control unit charges the leisure battery as you drive along to ensure you have a few days power if electric hook-up not available on-site.

The 'downstairs' rock n roll bed is extremely comfortable and will set up for the night in seconds, as will the 'upstairs' double bed, perfect for 2 children to sleep or play.

The raising roof is released in a few seconds and rises automatically with the aid of front & rear gas struts. As well as providing comfortable sleeping accommodation, it enables adults of all sizes to stand tall and move around the van freely whilst cooking, changing or just chilling. The opening 'sun-roof' window in the raising roof, provides a light, airy feel to the interior when the top is 'popped'.

The single 'buddy seat' provides loads of further storage (or is designed to perfectly fit the included (but never used!) portaloo. The buddy seat also extends to provide two adult size seats to allow 4 to comfortably eat & drink at the dining table, which magically slides out of view when not in use or when travelling.

The camper has further storage under the rear seat and in the 'boot'.

The modern water-cooled engine ensures reliability and low running costs. The 80bhp 1.4 motor can return upwards of 35mpg.

Other features include:

VW factory fitted immobiliser.

12v camping electrics featuring on-the-go charging, 240v when on hook-up (as detailed above)

Leisure battery condition meter.

Effective, contemporary curtains.

Front and rear heated screens.

Quality Kenwood CD Radio with 6 speakers and Aux Input to connect phone, iPod etc.

Front cab heater with variable speed fan.

Easy-clean laminate effect flooring.

As stated above, I also include in the sale a set of alloy wheels for the camper although they require some maintenance to regain their full cool, head-turning, shiny impact.

Priced for quick sale, test drive available, enquire asap. Very few Brazilian Type 2's for sale in the north of Great Britain.

Good luck and happy camping!
Who is online?
In total there are 6 users online :: 0 Registered, 0 Hidden and 6 Guests

None

Most users ever online was 175 on Wed May 15, 2019 9:25 pm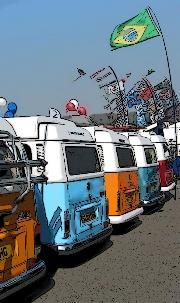 Latest topics
» Free for All


by Scooby Yesterday at 5:46 pm

» New source for wiper blades


by CarolinePH Yesterday at 5:12 pm

» BraziBay Pride Day -10th Anniversary Celebration!


by Scooby Yesterday at 4:11 pm

» Theme for KOMBI Sleepover 10


by TimV Yesterday at 9:49 am

» Private number plates and the law


by dizzylizard Sat Aug 17, 2019 5:54 pm

» Volkswagen Community Radio Station


by TimV Sat Aug 17, 2019 5:39 pm

» New Red9 Design wishbone and R&P front end


by Voyager Fri Aug 16, 2019 2:31 pm

» Agreed Valuation


by Tallulah Thu Aug 15, 2019 12:23 pm

» Hello.


by lornamac Thu Aug 15, 2019 11:24 am

» 2 word check in (post 2 words only)


by TimV Thu Aug 15, 2019 8:00 am

» What did you do to your VW today?


by TimV Wed Aug 14, 2019 8:52 pm

» Photos from the last Ten Years


by Scooby Tue Aug 13, 2019 8:11 pm

» All T2c have factory immobiliser?


by TimV Mon Aug 12, 2019 1:53 pm

» 2020 - Let's Rock the Moor - Marlow - 16th May


by Scooby Mon Aug 12, 2019 8:58 am

» 2020 - Camp Bestival - Lulworth Cove - July 30th


by Scooby Mon Aug 12, 2019 8:52 am


Top posting users this month
bvwb Bus Sticker
ABVWC Membership
Brazilian VW Bay.com - part of the Association of British Volkswagen Clubs.www.abvwc.com