We fancy fitting a tv/dvd player that can be watched from the back seats and a buddy seat when on long journeys.
we think needs to be above the sink, but it needs to be adjustable to twist, and not a drop down roof mounted unit.
Has anyone seen something similar to this fitted: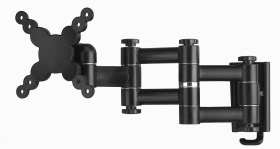 I think that if the door pillar can take a seat belt mount, a small screen and bracket will be fine.
If I'm worng - please let me know.
I've also been told that avtex players are the best - are there any other good options?
thanks again
paul