Late 2006 Air-Cooled Kombi for Sale
Price :

21 750 £

Country :

United Kingdom
Description :
MOT'd and Serviced on 28th Sept 2022 - MOT now runs to 12th Oct 2023!
Why not buy now and begin a year of adventures in this camper van.
Below is an outline specification of 'Scooby' our reliable, well maintained and cool looking VW T2 Camper Van.
Acknowledging the time of year, we have priced 'Scooby' to sell, so please take a look at what is included.
If you have any questions not covered here, please 'doo' make contact and send a PM to us.

Summary:
Scooby is an Air-Cooled Brazilian VW Bay Window Camper Van – first registered on 1st October 2006 – so just coming up to his 16th birthday! We are the second owners, having entered our 12th year of ownership this year. Scooby not only looks cool, but he has low mileage, a full-service history and is booked in for his annual service and MOT in mid-September. He will therefore be sold fully serviced, with a full 12 months MOT, plus one or two optional items, all ready for the new owner to go exploring straight away!

Price:
Do not wait for the Spring/Summer to buy your camper van. Typically, Spring/Summer prices can literally be thousands of pounds higher when compared to Autumn/Winter prices. As 'seasoned' campers we fully acknowledge this fact and believe Scooby is priced to sell now. So why not grab an 'Autumn Bargain' and start your camping adventures in September, not in six or seven months time! Scooby is reasonably priced at £21,750, which includes some optional items as covered in our descriptive text.

Basic information:
o 2006 was the last year of the air-cooled Brazilian engines, so Scooby sounds like the VW campers of yesteryear, but with a modern, more reliable 1598cc Fuel Injected Petrol Engine that comes complete with a factory fitted immobiliser, front disc brakes and rear drum brakes.
o Scooby is a VW T2 Danbury conversion with Right Hand Drive, with a cool blue over white colour scheme and only 94403Km on the dial – which equates to only 58,890 miles in 16 years.
o The internal 'Rio' Layout provides fitted furniture all along the passenger side, offering plenty of storage space. This furniture houses a deep chest fridge, the gas bottle, a two-ring gas hob & grill, plus the sink and cover, water container and electric pump.
o Scooby seats four – two in the front, each with three-point seat belts and two in the rear, both with two-point lap belts.
o Scooby also sleeps four – two on the ¾ width rock 'n' roll bed and two up in the pop top area that comes complete with adjustable bed board and foam mattress.
o All seats are covered with a hard-wearing grey vinyl, with blue seat covers on the adjustable front two seats plus black covers to the two headrests.
o For further detailed descriptions please see the attached photos.

The external appearance:
o A cool blue over white external colour scheme, a white raising pop top, grey canvas and sun roof.
o Scooby is undersealed and wax oiled (27th Sept 2018) and we have added a front towing point.
o Front mounted spare wheel in a painted/stainless steel, lockable wheel cover with VW logo.
o Front and rear bumpers are chromed and the wing mirrors are also stainless steel/chrome.
o Front, rear and side lights have clear lenses, headlights have chrome (plastic) surrounds.
o A second set of 'winter' lenses for both the front and rear are included in the sale.
o All windows (except the front cab area) have privacy 'black out' windows.
o Below the sliding door there is a very cool looking aluminium side step.
o Scooby has a lowered suspension with replica Porsche alloy wheels.
o Original Empi alloy wheels included in the sale, but need some TLC.
o Behind the two rear wheels are two black & white Empi mud flaps.
o Above the rear bumper, on the right-hand side, is the rear fog light.
o At the rear, on the right-hand side, is the locking petrol cap.
o Passenger side rear window has a large Scooby sticker.
o Replaced all four tyres (on 27th Sept 2018).
o Replaced radio aerial (on 27th Sept 2018).


o At night, there are two external black fabric covers – for both the front and rear screens (BAT).
o The front screen cover has a white picture of Scooby below fluorescent words: Scooby.
o A light blue sun canopy and poles (pole and clamp connection) is included in the sale.
o Internally there are 'silver foiled' thermo mats for every window (fixed with suckers).
o The engine compartment contains the leisure battery and standard hook up point.
o Replaced starter battery on 31st May 2019.
o Replaced alternator on 26th June 2019.

In the Drivers Area:
o Two seats with grey vinyl covering, each with 3-point seat belts, blue seat covers and black headrests.
o CSP alloy gear shifter (fitted on 9th Aug 2021) for smooth gear changing, with a button for reverse.
o There is a wooden/alloy steering wheel (MCJ) with centre boss with an engraved 'Scooby'.
o The speedo currently has a reading of only 94403Km (or only 58,659 miles) in 16 years.
o Heated front screen (newly fitted front wind screen on 27th Sept 2018).
o Sony CDX-GT560UI radio/CD player & USB port for iPod connection.
o The front face of the digital radio is removable for security.
o Parcel shelf on the passenger side below the glove box.
o There are four music speakers (two in the doors).
o There are also two music speakers in the rear.
o Webasto petrol heater with variable control.
o A cigarette lighter below the radio.
o Hand painted blue door cards.
o Black carpeted floor.

In the Living Area:
o The internal 'Rio' Layout provides fitted furniture all along the passenger side.
o This arrangement allows the fitted furniture to offer plenty of storage space.
o Towards the front is the sink (with cover), water container/electric pump.
o Towards the back is a deep chest fridge that runs off the leisure battery.
o Another cupboard contains the gas bottle to run a two-ring hob & grill.
o For use only when on the mains hook up, two double 13-amp sockets.
o Behind the passenger seat the removable pedestal table top is stored.
o The leg (pole) of the table locates into the floor of the of the rear cab.
o The ¾ width rock'n'roll bed in front of the fitted furniture sleeps two.
o Two people can sleep in the pop top area above the rock'n'roll bed.
o Original hinged bed boards plus the foam mattress included in sale.
o The rock 'n' roll bed is converted from the bench seat arrangement.
o The bench seat accommodates two people, with lap belts for both.
o Below the bench seat, by the sliding door is the fire extinguisher.
o All of the windows here have blue and white polka dot curtains.
o A custom-built timber buddy seat sits behind the driver's seat.
o The floor is covered with individual mats for easy cleaning.
o These mats sit on top of the original floor rubber matting.
o A second row of two seats are also included in the sale.
o These two seats are front facing and include lap belts.
o Above the hob and sliding door are two strip lights.
o Towards the rear are two circular spot lights.

Optional extras:
o A large file of documentation, history, servicing, MOT's, original Bill of Sale – included in sale.
o A Funky Leisure blue sun canopy and poles (pole and clamp connection) included in sale.
o Tripod legs and a shorter table leg (pole) – available separately for a negotiated price.
o Cherished private plate – RD06 ROO – legal and 'show plates' included in sale.
o Number Plate meant to say Roo b Roo (ie. Scooby Doo as spoken by Scooby!).
o Fiamma Rear 2 Bike Rack – available separately for a negotiated price.
o A blue, outdoor VW mat – available separately for a negotiated price.
o Bottle Jack – available separately for a negotiated price.
o A second row of two seats are also included in the sale.
o Roof rack – available separately for a negotiated price.
o Spare clear 'winter' lenses – included in the sale.
o Original Empi alloy wheels – included in sale.
o Brazilian flag with Scooby – included in sale.




Who is online?
In total there is 1 user online :: 0 Registered, 0 Hidden and 1 Guest :: 2 Bots

None

Most users ever online was 413 on Wed Jul 28, 2021 11:39 pm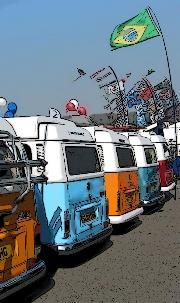 Latest topics
» Camperjam 2023 - Weston Park Shropshire - 7 - 9 July

by Dennis Sun Nov 20, 2022 3:40 pm

» Vrt in Ireland

by Brigid S Thu Nov 17, 2022 11:51 pm

» Danbury curtains?

by gstod Thu Nov 03, 2022 5:15 pm

» Winter storage

by Goldy Wed Nov 02, 2022 10:36 pm

» Get your T2 serviced now!

by TimVWK Thu Oct 20, 2022 12:22 pm

» Where are you looking and booking for 2023?

by Scooby Mon Oct 10, 2022 8:58 am

» Rolling back the years

by Scooby Mon Oct 10, 2022 8:45 am

» KOMBI Sleepover 2022 - 30th September - 2nd October - Anita's Camping and Caravanning Site, Banbury.

by TimV Sun Oct 02, 2022 7:26 pm

» Hello from a long-time lurker!

by Jubi Tue Sep 27, 2022 7:58 am

» Red Shoot Camping Park - New Forest

by Bumble Mon Sep 26, 2022 10:28 am

» Scooby Up For Sale!

by Scooby Sun Sep 25, 2022 10:04 am

» Battery area

by Coxwell51 Sat Sep 24, 2022 6:22 pm

» Dash board light

by DaisyDog Sat Sep 24, 2022 3:38 pm

» Garage recomendations in Leicestershire/Midlands

by Jubi Thu Sep 22, 2022 11:51 am

» CSP gear shifter T2 Brazillian 2010 plate

by Bob Sun Sep 18, 2022 1:35 pm


Top posting users this month
bvwb Bus Sticker
ABVWC Membership
Brazilian VW Bay.com - part of the Association of British Volkswagen Clubs.www.abvwc.com