@osg wrote:

With Issue 157, ADD Media has at its own expense sent out copies to all those who had paid subscriptions with the now defunct Jazz publishing.

This issue tells us that for the immediate future the magazine will be bi-monthly starting from January.

It also says it will be dedicated only to air-cooled VWs with perhaps later water-cooled T3s.
As our BraziBays are T2s with entirely Split and Bay components a similar dispensation should be granted to our water-cooled models. Perhaps a letter to the Editor could mention this.


They make a pledge that any subscriptions to ADD Media would be re-funded if things go wrong.
If you have a VW camper this is the best magazine for you.
Please help to keep the magazine going by taking out a subscription.
osg


What has yet to be addressed, is when Warner's Group Publications (collect subscriptions for VWC&C - Volkswagen Camper & Commercial) are going to refund the remains of the £39.96 yearly subscription fee, for future issues of VWC&C which Jazz Publishing would have been publishing after Issue 156!?! If they don't refund £3.33 per non-supplied issue, I intend to investigate breach of contract clauses pertaining to contract law.
I renewed my subscription in August 2020, commencing with the August 2020 issue. I have the received the October 2020 issue (i.e. Issue 156), but not the August or September 2020 issues (i.e. Issues 154 & 155)!
I had two technical articles published in VWC&C as follows in 2004:
Nigel A. Skeet, "How To: Unmasking the Main Beam Warning Light", Volkswagen Camper & Commercial, Issue 16, Autumn 2004, Page 45.
https://www.thesamba.com/vw/forum/album_page.php?pic_id=1993486
https://www.thesamba.com/vw/gallery/pix/1993486.jpg
Nigel A. Skeet, "How to: Fitting an Oil-Pressure Gauge-Sender, Installation Adapter, to the Type 4 Engine", Volkswagen Camper & Commercial, Issue 17, Winter 2004, Pages 44~45.
https://www.thesamba.com/vw/forum/album_page.php?pic_id=1991575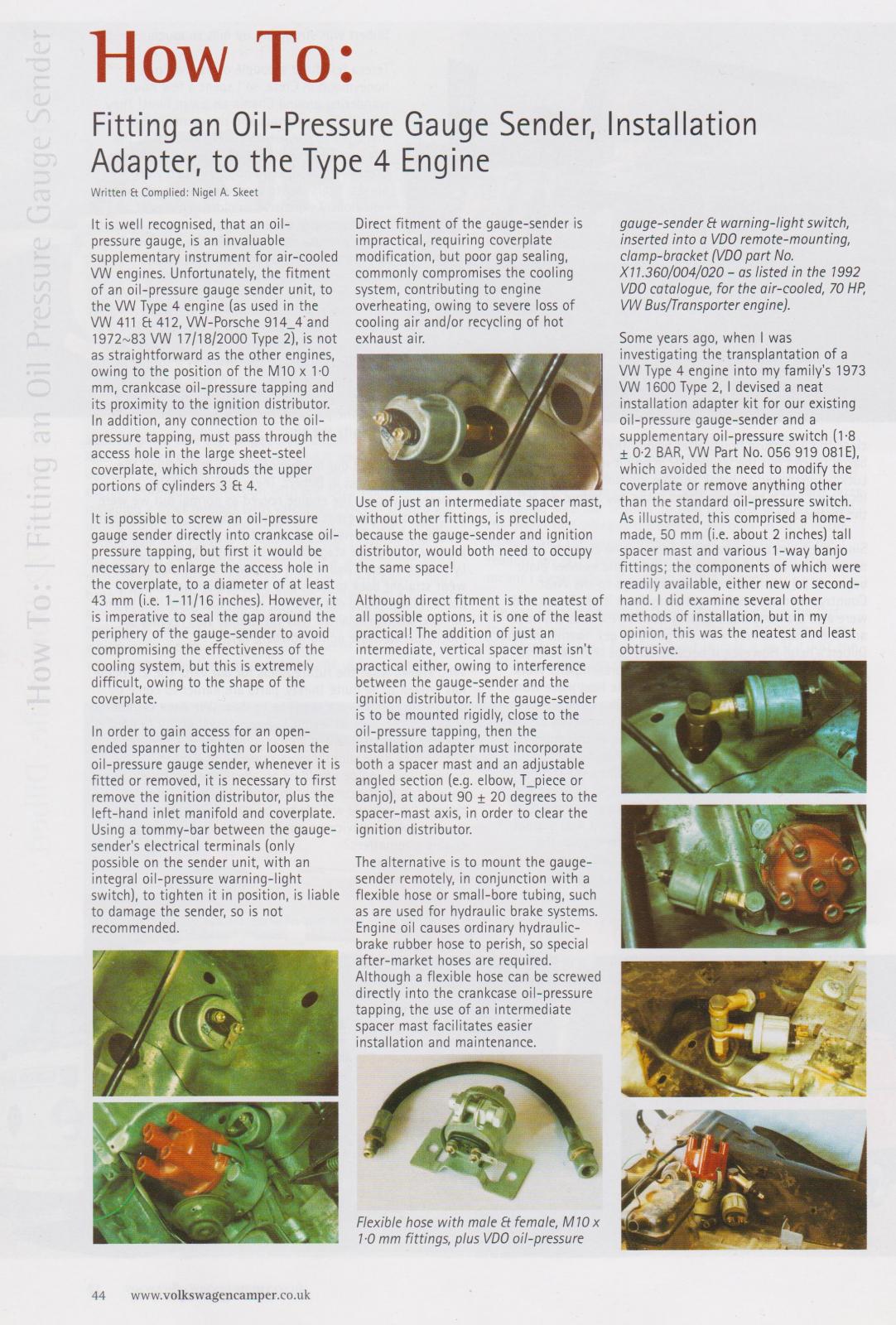 https://www.thesamba.com/vw/forum/album_page.php?pic_id=1991576

________________________________________________________________________________
Regards.

Nigel A. Skeet

Onetime member, technical editor & magazine editor of the Volkswagen Type 2 Owners' Club