£23995 Iconic Aircooled VW Danbury Rio Spaceroof
Price :

23 995 £
Description :
Let me tell you about my wonderful VW Camper, Tango.

I've owned Tango for 2 years and it has been the best ownership experience. Back then I planned to start a VW Camper hire company in Ibiza and was looking for a decent left hand drive Brazilian Kombi, to complement the one I had already owned since 2009. As you may be aware I run this owners club for this particular variant of VW T2 here in the UK - brazilianvwbay.

I bought Tango as a very low mileage Tintop camper. The previous owner only used to use the camper for a trip to Scotland from Suffolk each summer. The rest of the year, the Kombi was dry stored in a barn. From the moment I drove him I was delighted by his steering and gearbox. As he is as Volkswagen intended, the steering is precise and not subject to the play that the right hand drive conversion by Danbury can lead to. Further the low mileage meant his gearbox was tight and positive. Just like new.

As soon as Tango was in my possession I had him fully serviced by Brand Autos who also fitted a Longlife Stainless Steel exhaust at the time. Upgraded Magnecor HT leads have replaced the original Volkswagen set.

The combination of the Danbury Rio conversion with soft tan leather plus the condition and mileage of Tango, made him ideal for my project. After several month's research in Ibiza at the end of 2017 I decided to not take my vans out there, but rather set up a rental company here in the UK. To make Tango more practical, I had a Spaceroof fitted in January 2018. The roof is a delight to open and close, in comparison to the Danbury pop top and gives Tango the classic Westfalia look. I included the opening windows in the canvas to get the best out of it. Pete at Spaceroofs did a sterling job.

Both my campers were available for hire from April 2018, but they actually did very little work, as I was picky about who I would hire them to. Tango went out on just 4 rentals. 3 weekend breaks with couples and then on a 3 week tour of the UK with a German chap and his Harry Potter-loving son. They toured all the sites relevant to the films in Great Britain, covering 2000 miles, and Tango taking it all in his stride.

Then in September 2018 I took up a job teaching English in Ibiza and Tango came with me to be my companion. Fully laden we took the ferry to Northern Spain, drove south-east to Valencia and then ferried again to Ibiza. Once on the island Tango didn't actually go very far, as I used a bicycle to commute and I would never have taken him into Ibiza Town as it's chaos. But at the weekends, Tango and I would visit some of the magical places on the island and naturally he's draw admiring looks wherever he was.

Not once did Tango let me down during the 10 months we were in Ibiza. His battery started to lose charge due to lack of use, so just before we returned to the UK, I replaced it with a new 'Spanish' one!

Fully loaded again we completed the trip back to the UK in reverse and Tango performed admirably.

Now that I'm back for the time being in the UK, sadly I have no need for 2 campers and I think Tango deserves further adventures with a new owner.

He is wonderful to own, drive and camp in. He looks great, is still very low mileage at 33,000 kms (20,000 miles) and has great features - the deep chest fridge is one of my favourites - also the new Bluetooth Radio with mic mounted on the rear view mirror, plus the upgraded speakers in the lower rear are fantastic so your on the move tunes are awesome.

Tango's full spec is as follows:

LHD 2005 produced and registered VW T2 Kombi
Bright Orange under Candy White paintwork
Danbury Rio conversion including the rear cupboard.
Spaceroofs fitted January 2018 with matching orange canvas, 3 windows and matching tan mattress and trim. Exceptionally easy to operate. Matching Westfalia style roof rack.
White painted wheels with recent (low miles) white banded tyres, stainless steel hubcaps.
Stainless steel headlamp rings.
Twin rear fog lights.
Spare wheel mounted on the front panel with fitted black vinyl cover.
Longlife Stainless Steel Exhaust.
Unmarked Tan Leather interior including the cushion on the buddy box.
Matching tan vinyl interior panels across cab doors, sliding door, rear 1/4 panel and tailgate.
Seats 4, sleeps 4.
Built in deep chest fridge.
Twin hob gas with grill.
Sink with electric tap.
Hook-up with Waeco charging system to leisure battery and 2 x Double 240v sockets (operable when on hook-up)
2 x interior strip lights.
2 battery operated mobile led lights.
Recent JVC Bluetooth radio with handsfree phone operation, door speakers and new larger speakers fitted in the rear seat lower panel - the sound in the camper is incredible.
Excellent storage options within the multiple cupboards, the buddy box, under the rear seat, the rear cupboard and in the boot.
2 bike tailgate carrier.
The custom cherished plate AN05 BAY is included in the sale.

I'm asking £23995 for Tango. He has just been fully serviced, has a year's MOT until next August and will be fully valeted before handover.

If you are looking for a unique reliable VW camper that has classic looks and sounds, Tango fits the bill.

Tango can be viewed in Surrey, please contact me anytime for further photos and information.
KOMBI Sleepover 10 @Anita's Banbury - book now!!
Who is online?
In total there are 2 users online :: 0 Registered, 0 Hidden and 2 Guests

None

Most users ever online was 175 on Wed May 15, 2019 9:25 pm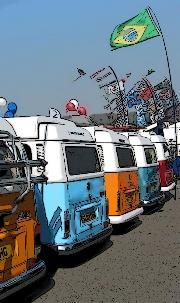 Latest topics
» 2020 Calendar


by Surfwagen Stan Sat Sep 14, 2019 6:06 pm

» BraziBay Pride Day -10th Anniversary Celebration!


by harryhornet Sat Sep 14, 2019 5:04 pm

» Extra 12v Power Sockets


by TimV Wed Sep 11, 2019 9:59 am

» 2019 Another Year of Adventures


by Scooby Wed Sep 11, 2019 8:48 am

» Garage in Grimsby area


by Peanut Sun Sep 08, 2019 11:34 am

» My Crewcab's looking for a new friend.


by jme Fri Sep 06, 2019 8:03 pm

» Whose van is this? Not the usual place to see one !!


by TimV Thu Sep 05, 2019 9:13 pm

» 2006 Aircooled for sale - advice needed.


by silver edition Thu Sep 05, 2019 7:59 pm

» Speedo/odometer query


by Dee James Wed Sep 04, 2019 3:08 pm

» 2020 - Twinwood - August 28th-31st


by CarolinePH Tue Sep 03, 2019 6:17 pm

» 2020 3.4.5 July camperjam Weston park


by dazdub Tue Sep 03, 2019 4:26 pm

» Theme for KOMBI Sleepover 10


by TimV Sat Aug 31, 2019 10:42 pm

» Brazi Bay on A303 today


by fat_pastor Fri Aug 30, 2019 5:17 pm

» New category: The Marketplace


by jme Fri Aug 30, 2019 5:00 pm

» Agreed Valuation


by TimV Fri Aug 30, 2019 3:09 pm


Top posting users this month
bvwb Bus Sticker
ABVWC Membership
Brazilian VW Bay.com - part of the Association of British Volkswagen Clubs.www.abvwc.com