Unique Crew-Cab for Sale in DF.
Price :

10 000 £
Description :
She's done me WELL and is a PERFECT work horse for those that need one. She's a 1984 Double cab (seats 6 legally) that has been treated like a GODESS and is prepared for "Black-Plated" (IE:- historic vehicle registered), doubling, if not trippling her value if kept "90% original"!

MECHANICALLY:-

The engine is COMPLETELY rebuilt with a 2lit housing for a 1.6 motor (more Torque) with electronic ignition, Petrol/ Ethanol/ Flex, running at approximately 12-14kmpl or about 7lp100km with a reasonable cruising speed of about 100kmh, I don't push it myself, but she'll easily handle 110kmh when you get there

She's 'prepped' to accept either twin carbs or fuel-injection AND a Turbo, mounted to the existing 1.6 motor. Personally I prepped her for fuel injection and a small Turbo to produce around 240-320BHP - with the NEW engine - as IS - effectively bringing her performance and fuel consumption closer to that of a Modern vehicle at around 25-30kml, around a 6 second 0-100kmh take-off and a cruising speed of somewhere more akin to 150/160kmh


Light-weight, front chassis strengthening platform.
New Clutch.
New gearstick and housing.
New brakes and drums (to rear), disks to front.
New drive sleeves to rear.
Gearbox rebuilt and sound (but I'd pop a Subaru/ Porsche in there myself).
Electronic ignition and distribution with safety cut-off/ imobilizer and push-button start.
Steering system rebuilt in its entirety 'and' legally adapted to bearings instead of bushes (for ease of maintenance and handling, it's 'almost' hydraulic in function now), prepped for electronic power steering.
Suspension rebuilt and solid, but prepped for "Air-ride".
All round wheel-bearing and hub replacement to Original spec'.
New fuel lines, (but tank not replaced).
New Battery.
All round (5) Chevrolet S10 Alloys with new tyres, except spare.
ALL wheels PERFECTLY aligned.
Rear engine access cut out of delivery-tray for ease of access and display.

AESTHETICALLY:-

Complete BODY REBUILD - superficials (like doors and wotnot) lightened, patched, smoothed and sanded.
ALL glass rubber housing new and restated.
Complete delivery-tray rebuild, strengthened and reinforced with Aluminium panelling.
She 'has' the original bumpers, but as sold, comes with the "safari" style.
I removed the electric window mechanisms - 'cos the ones that 'I' could afford keep breaking so she's a winder, but the mechanisms are there should someone want to re-install them.
All round window blinding.

Raised front seats set on the chassis strengthening platform.
S10 interior seating.
Resprayed and registered in the colour Black!
Indicators and lighting panels blacked out to match.
Central locking, motion sensors and alarm installed.

Rebuild photos upon request ... but you've ALL seen it man!

This is A VERY RARE and UNIQUE KOMBI - I've seen many 'worse' examples for sale in the R$45-48K range ... I'm looking for someone, that want's a vehicle to LOVE, that if treated correctly, will love them back ... OK!


Who is online?
In total there are 4 users online :: 0 Registered, 0 Hidden and 4 Guests

None

Most users ever online was 175 on Wed May 15, 2019 9:25 pm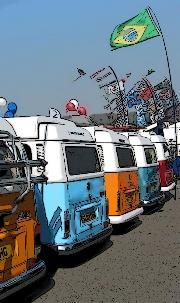 Latest topics
» 2020 BVWB Club Calendar- Order yours now!


by CarolinePH Today at 6:46 pm

» diy bay interior


by dazdub Today at 9:20 am

» Security recommendations


by apm101 Tue Dec 03, 2019 1:10 pm

» Hi there!


by daveb101 Tue Dec 03, 2019 11:24 am

» A short rundown of VWs from Brazil


by TimV Tue Dec 03, 2019 8:36 am

» 2019 Another Year of Adventures


by Scooby Mon Dec 02, 2019 8:55 am

» 2 word check in (post 2 words only)


by Scooby Mon Dec 02, 2019 8:49 am

» Parts from Brazil


by Vman Sat Nov 30, 2019 7:31 pm

» Advice please on buying a van


by Grahamc1964 Fri Nov 29, 2019 8:59 am

» Nine Years and counting!


by dazdub Fri Nov 29, 2019 8:04 am

» 2020 - Camper Mart - Telford International Centre - 2nd Feb


by AbsintheKombi Thu Nov 28, 2019 4:25 pm

» Battery Monitoring


by Ardigon Wed Nov 27, 2019 5:54 pm

» Have your Kombi serviced by our Dreamteam!


by Ianvwk Mon Nov 18, 2019 9:48 pm

» 2019 Pre-Christmas Curry - Birmingham 16th November


by harryhornet Sun Nov 17, 2019 9:02 pm

» Winter is coming, what cover have you got?


by Vman Sat Nov 16, 2019 1:24 am


Top posting users this month
bvwb Bus Sticker
ABVWC Membership
Brazilian VW Bay.com - part of the Association of British Volkswagen Clubs.www.abvwc.com