Morning All (well late morning)
Just thought we would give you the "inside Scoob (sorry Scoop)" on what a great day we had at this event yesterday.
It is very much a family and dog friendly show with plenty to do and see for both!
Added to which it was dry and the sun even shone at various times through out the day.
To start, there were some great looking boats and everything to go on the water.
The guys at Surfing Warehouse even had an old blue & white splitty (nice colour scheme).
There were a good collection of cars, ranging from Rolls Royce and the "Super Cars" to much older (and nicer) classic type cars.
One of the best in our opinion has to be the following (and all on three wheels)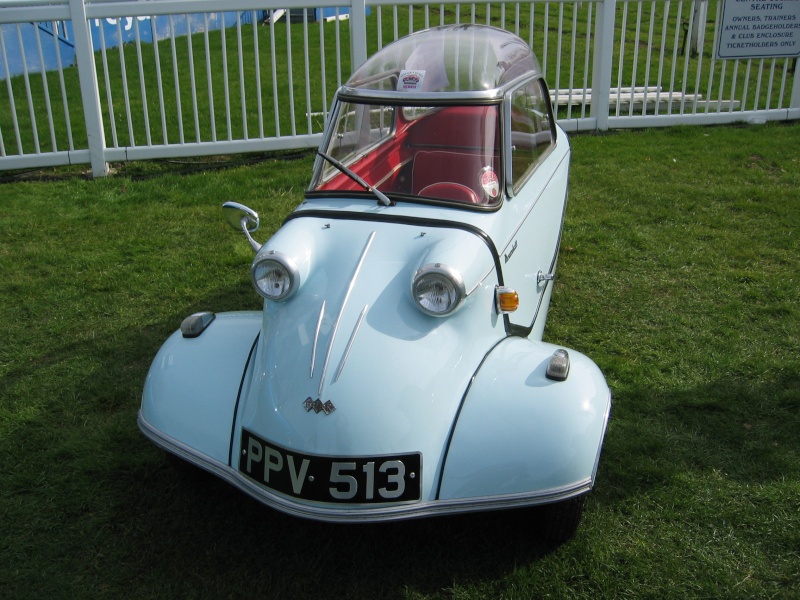 When aged around 10 or 11 we first encountered such a fab machine as the one above - wanted one then - want one now.
However, the all time dream car for us has to be British and here is an example we liked at the show.
(Are all the cool vehicles always blue and white - as illustrated in this report - or is it just us?)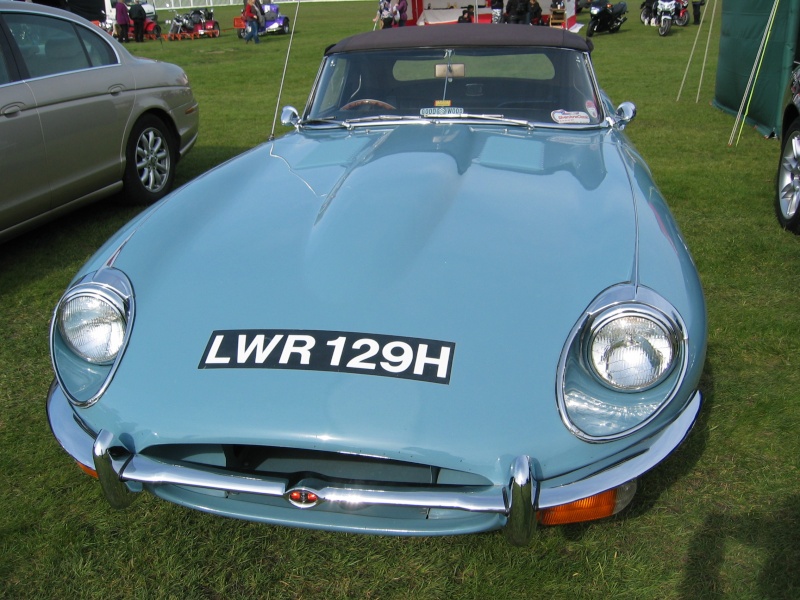 There were also motorcycles at the show and we spent some time talking to the guys on two stands in particular.
First, Harley Davidson with a good selection of models, followed by Royal Enfield with a different style.
Perhaps at opposite ends of the spectrum but we have an interest in both.
You could also "get involved" with Booker Gliding if more loftier ambitions is your thing.
On the camping side there were a number of stands to consider.
We went to the Camp In A VDub stand and chatted with Mike & Fiona - all in FAB costume outfits for the show.
Last year we hired one of their three water cooled campers - they have a great set up - and had a great time.
Another Brazilian T2 Camper hire company were there - "T24Fun" - who we had not heard of before and David & Lyn had a silver and white T2 for you to Hire.
Dub Box also had a stand - an alternative if you need more sleeping space - to be towed as a caravan but looking like a camper!
We spent as much time looking at their beige and cream "L" reg Splitty as to their two Dub Boxes - one of which came with pop top.
On the Danbury stand we spent some time chatting to Daniel Copp.
Being scared by the prices of power steering, then being relieved that they cannot fit it to Air Cooled Campers like Scooby (phew). We also discussed air conditioning and generators, the type of vehicles on show and the show in general. Asked if a power steering T2 would be available for test drive at the Danbury Open Day - needed to be confirmed by Jason who was not at the show.
Danbury were displaying two brand new T2's - one with special wheels etc. and power steering - which Daniel said was really good on this drive to the show - but the other one had the identical colour scheme to Scooby and looked really cool - clearly blue is THE colour!
As if any further confirmation were needed here are a couple of photos below that prove the Blue & White colour combination was even cool in the dim and distant past (complete with pop top).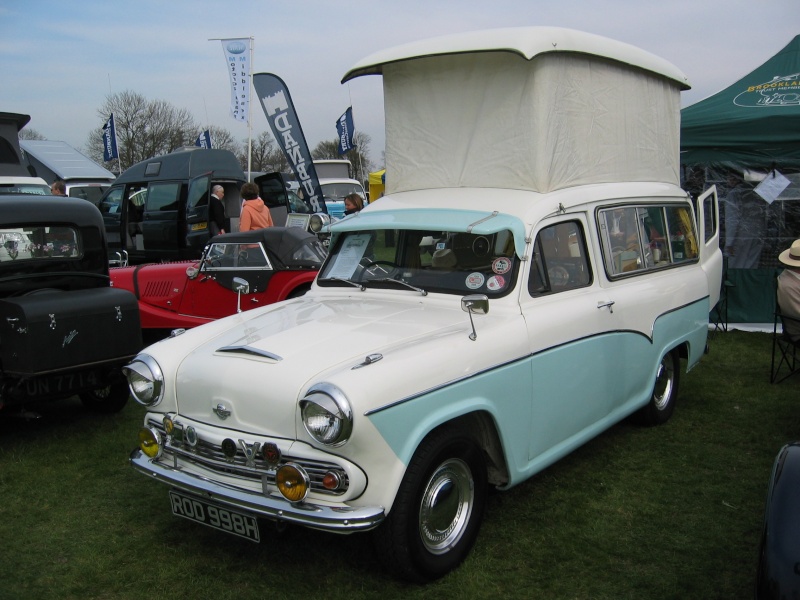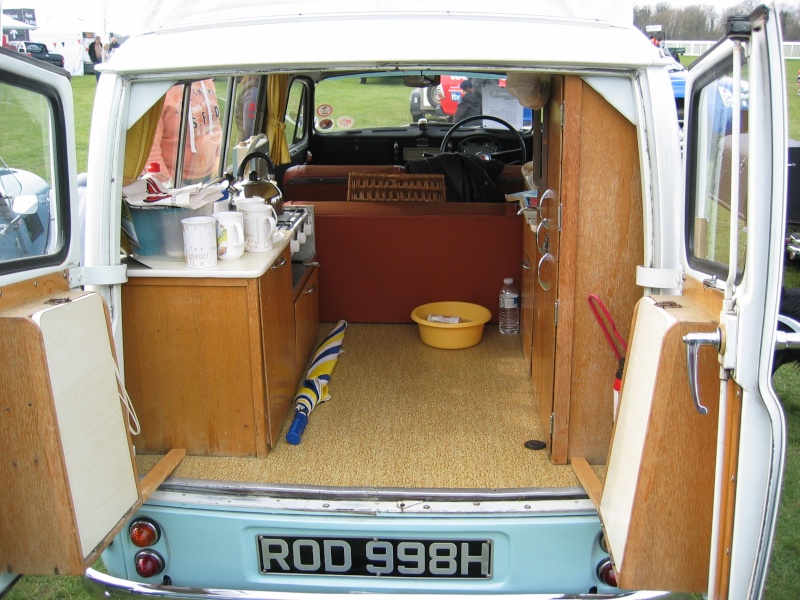 There were obviously the T5 type of campers on display from various suppliers - looked at a few - great on the inside, not so on the outside (in our opinion). You know you cant beat a Bay.
Did not bother looking at the huge American Motor Homes - not very practical in the UK - but if thats what you are into!
We also spent some time on the Camping & Caravaning Club stand - which provided an interesting insight to their organisation (dont think they have many in a VDub).
On the food front there were too many things to go through here.
Some highlights for us were as follows:
"Ladies in Pigs" promoting British Pork with various sample dishes and great sausages - and all free for the tasting.
There was a chocolate wine which tasted very nice (cant rember who supplied it - did not have that much did we?)
Cadbury World were there with the obligatory free chocolates - have not been is it any good?
If you like cheese, we tried and then bought some very nice examples from the Snowdonia Cheese Company.
An Extra Mature Cheddar (Little Black Bomber) and some Hot Red Leicester with Chilli and Crushed Peppers (Red Devil)
The day ended very much on a high as we walked away with the Winner's Trophy for the Ladies Rowing Challenge.
This was a "fun" rowing event with male & female categories in under 16 and over 16 age ranges, with a trophy for each one, on each of the three days of the show.
It was organized by the Royal Navy and Royal Marines Rowing Association - ladies, there were some fit marines on hand at all times
- with donations going to support The C Group Supporting The RMs.
Entered the show at 10.00am, left at 4.30pm, What A Great Day.
This is your roaving show news hound Scooby signing off for now.
Hope to see you out on the road soon