Part one
Well now that we have finally got all our shipment to Korea - I guess its time to write up the adventures of Daphne Summer 2012. (you have to love moleskin notebooks)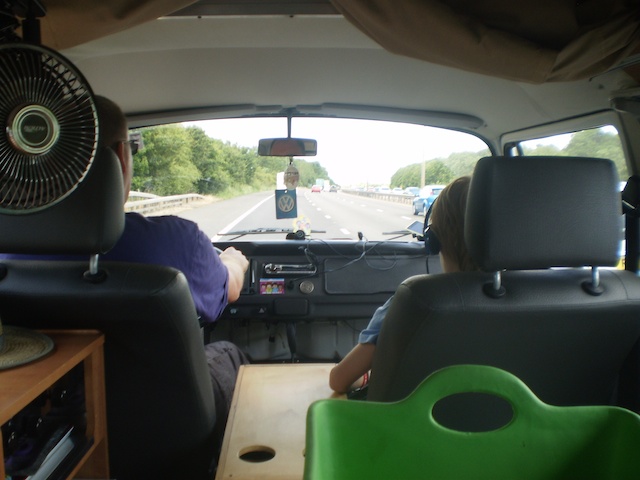 Having spent the last ten years out of the UK we find the lack of aire de service de camping car a real pain. one of the easiest things to do in Europe, especially France and Germany is to just pull up in almost any village and be able to lay up for a night, usually for free. Any way that aside this year we decided to head across to the mainland on an early HDFS Dover Calais crossing. So knowing that one of the few places in the Uk where you can just park for the night and sleep is on the Promenade in Dover, right in front of the Premier Inn. So heading from relatives in the midlands at in what now seems a concurrent British summer theme of torrential rain we drove down to Dover and popped Daphne's lid moved some stuff to the front seat and were lashed with rain all night.
The 4am alarm woke us to a sodden canvas that had decided to be non proofed. Guess really should have seen it coming as normally when we pitch with a chance of rain I use a pop top flysheet that attaches using pop studs. Well you live and learn - how you guys manage to camp in the awful weather that is Britain now amazes me: oh for the comforts of the Southern parts of Europe.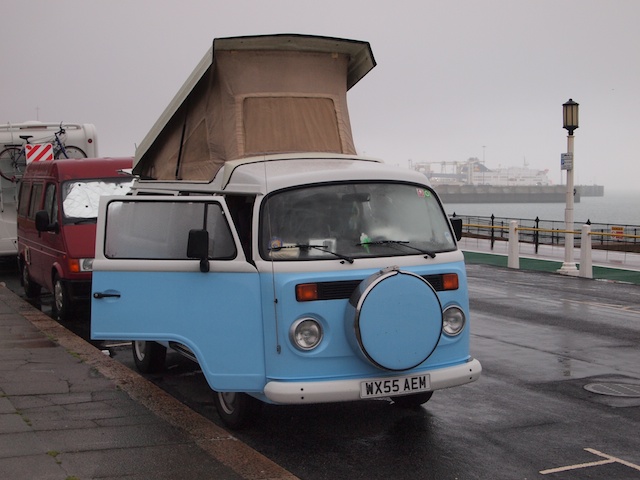 Anyway the main reason for using a 6am crossing was not because they are cheaper than the mid day ones but because the days finish of Le Tour was an arrivee en Boulogne sur Mer just south of Calais, and having missed the last 4 Grand Boucle, the chance was to good to miss.
So from Calais we made a quick sprint down to BsM and booked into a Hotel BB. Yes it seems mad to have Daphne and not make use of her but the forecast was a bit unsettled and we needed to try to dry off the canvas a bit before using her proper. So straight into Auchan and apart from stocking up on wine, baguette, Ardennes pate and all the other thinks we long for when out of europe, the purchase of super absorbent wipes was an essential. The other reason for heading to Auchan is eating steak hache at a Flunch restaurant. If you have never tried eating at Flunch it is what fast food really should be.
The afternoon then spent hang over crash barriers waiting for the arrival, made even more important by Bradley already sitting in second. So three hours catching give-aways as the caravan rolled in including some Belin race hats thrown from the Belin Early Bay. How good can life get? By the time the race arrived we had moved from the finish as race radio sounded like there might be a good chance of a combative on the slope steep that runs up from the harbour to the last 200m outside the old town. It did mean our position was not quite as good for seeing. Actually it was terrible as almost the entire world had decided to try the same thing but we did find a spot with a view right down the hill. the the last 40 seconds viewed on the giant screens al over the final 500m.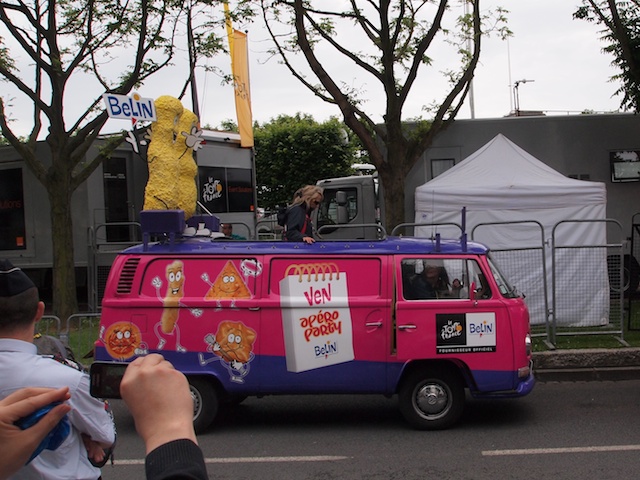 A nice hour wandering in among the race buses as the mailott jeune etc was dished out and then to finish a great Moule mariniere in the old town and then off to bed with a couple of glasses of Cidre Normand - why can't British cider taste like this anymore. BTW just as a note - our belgium friends are totally dismayed that interbred is selling a Stella Cider as being Belgium in the UK - really does make your head scratch as Belgium has no cider production to speak off other than a few small placers between Oostende and Duinkirk. Ha but then you read the label and read that it is made in Europe using European Apple juice - (In Britain with British apples in other words)
Not sure how many here have used Hotel BB or Formula 1 or Etap style hotels in France. We love them - cheap, quick and always near autoroute junctions always worth a stop over.
Day two and heading south along the A16, then through Rouen on the A28 stopping for our first picnic in an aire de service on the autoroute. Carrefour table up, oilcloth table cloth on, opinel butter knife and melamine from hema in Holland. Cheese, chorizo and pate en croute (like a pork pie but just better), oh yes and the last of our kingsmill bread, now just baguette
. And to round everything off sunshine enough to burn after a week of rain in the UK.
Then past Le Mans on busy roads, full of cars heading for the Le Mans classic week. A11 all the way to Angers and a night at a great municipal site next to Le Lac Maine, immaculate wash facilities and really friendly staff.
Day 3 and the weather forecast on meteo is mixed all the way across France except for the cote azure. Heads a long drive to the mediterranean, tails keep heading towards the basque country but with a few days on Ille de Re. Tails won and with the gods smiling on us we travelled with sun all the way to La Rochelle and across onto L' Ille. Crossing the Pont de Re is amazing even if the toll charge is 18 euro, certainly well worth it as the Island is brilliant. A pitch at Camping La Grainetiere, Top popped up and bike hire sorted out for an afternoon and evening riding on the brilliant cycle paths around La Flotte with its lovely harbour and again another great dish of moule to finish the day.
Two days of pootling around L'ille with a tag a long tricycle, lounging in the covered pool and picnicking at St Martin De Re harbour on fresh ham hocks, anchois and pain au canard. If you have never been to Ille de Re it is really worth the visit just a brilliant island, a bit like Jersey but with flatter cycling, great eating places and even in the thunder showers that we had to hide from now and again it is an amazing place. Oh and there is a Tintin shop !!!!!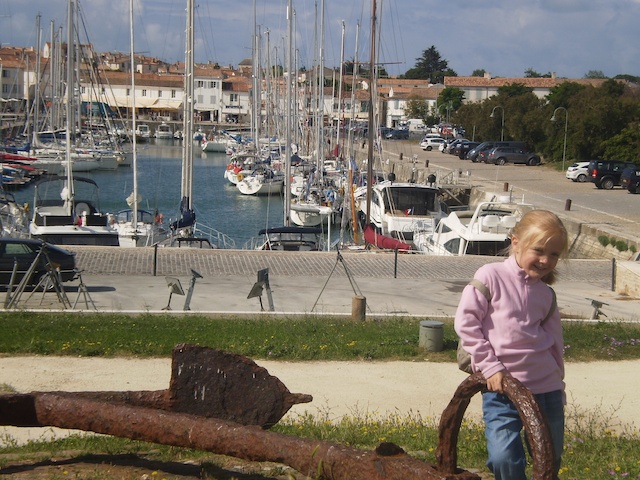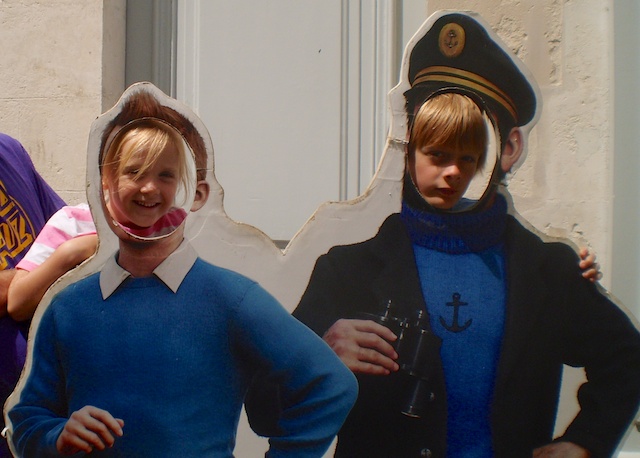 Part two to follow