As part of our summer holidays this year, we planned to go island hopping on the Western Isles.  We carefully read what and where Dalesman and Absinthe had previously hopped and planned our journey from there!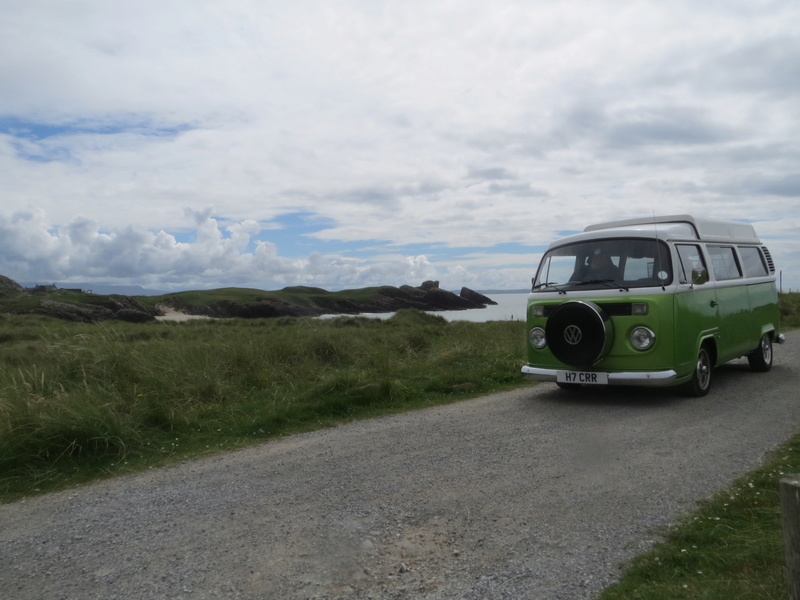 We love Clachtoll and had just spent 2 weeks on the north west coast, but decided that we would come home to lighten our camper load before we headed off to the Western Isles, that of course became a bigger task than returning on the Saturday and leaving again on the Friday. We had planned to do just that, me returning to work for 4 days and the wife in packing and repacking the bus, and leaving hassle free on Friday morning to get the ferry at Oban.
On Saturday, we headed home from Clachtoll and unfortunately we got a stonechip in the windscreen that very quickly turned into a stone crack! And due to our lowered suspension and the road being resurfaced, we managed to scrape our guard for the brake adjuster several times on the A9.  We started to have a slight panic about the roads on the Western Isles for a lowered bus, not to mention getting on and off ferries.
By Sunday afternoon we had persuaded ourselves that we should return to standard height for our next trip in 4 days time!!!
 Thank goodness for this forum, within a few hours of posting details of parts we needed we now had a new plan of going to Sheffield to see MarcusH on Monday night to collect the parts!  I'll add more details to
It's stripping time
about the suspension changes.
Long story short, too late.... we raised the bus and got it tracked on Thursday morning and screen replaced Thursday afternoon to start the journey on Friday!
We arrived at Oban on Friday morning and managed to have time for a fish supper before boarding the ferry.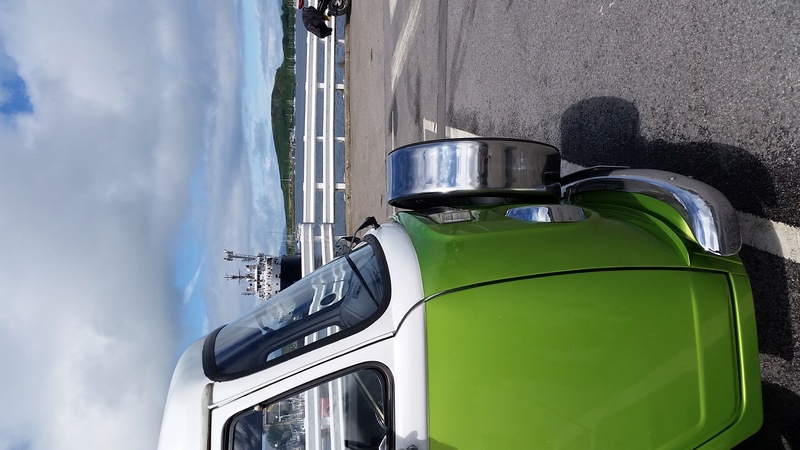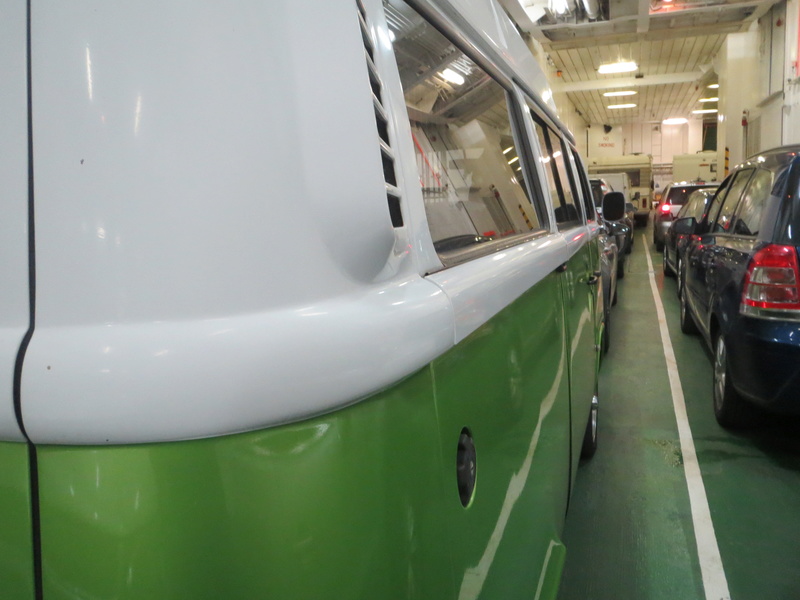 We stayed at Croft183 - http://www.croft183.com/  It is a small site, 4 hardstanding pitches, a yurt and spaces for tents.  We stayed for 2 nights and it was only us and a tent the first night, the yurt was occupied and another motorhome the second night.  You get the impression that the owner liked the idea of having a wee campsite but didn't really plan on doing a lot with it.  There was a well stocked kitchen area and 3 unisex shower rooms, all with slightly mismatched sinks and toilets, but it was quirky and did the job!  Incidentally, we met the owner at Barra airport where he was digging up the roads for a new electricity cable, you clearly need to have more than one job if you live on an island!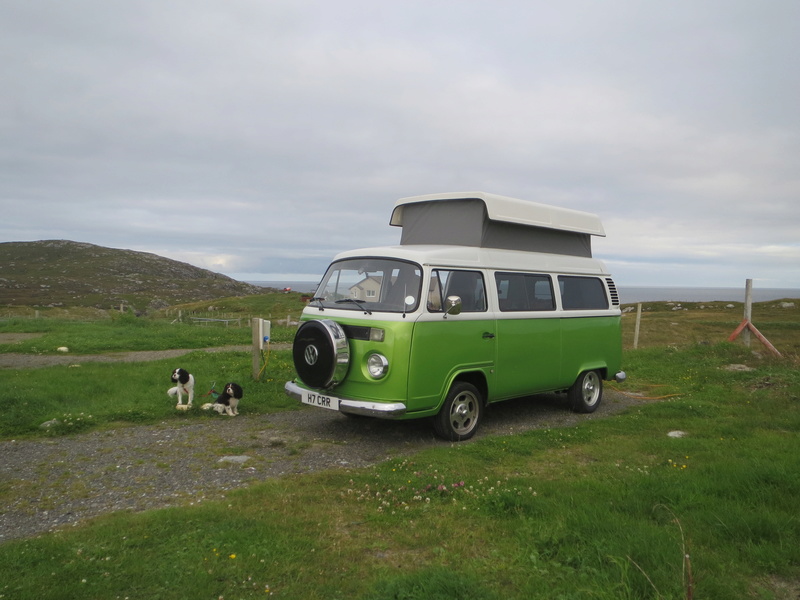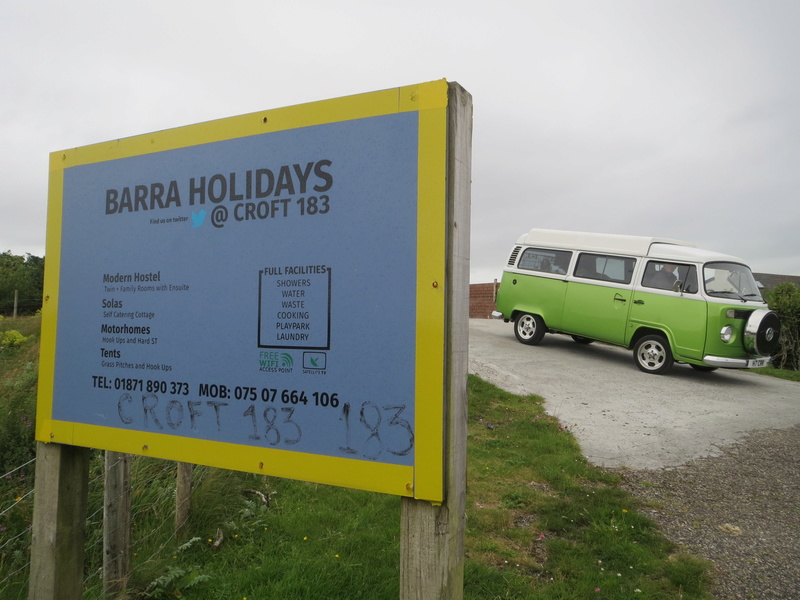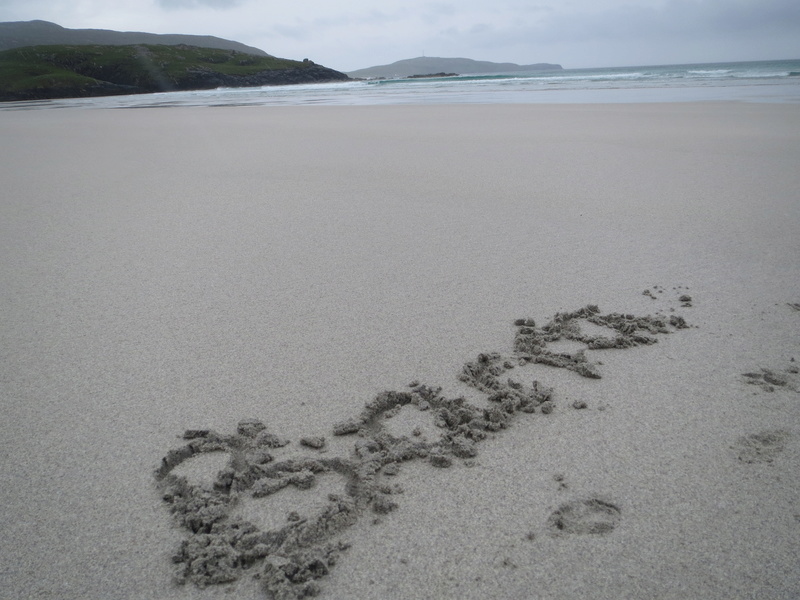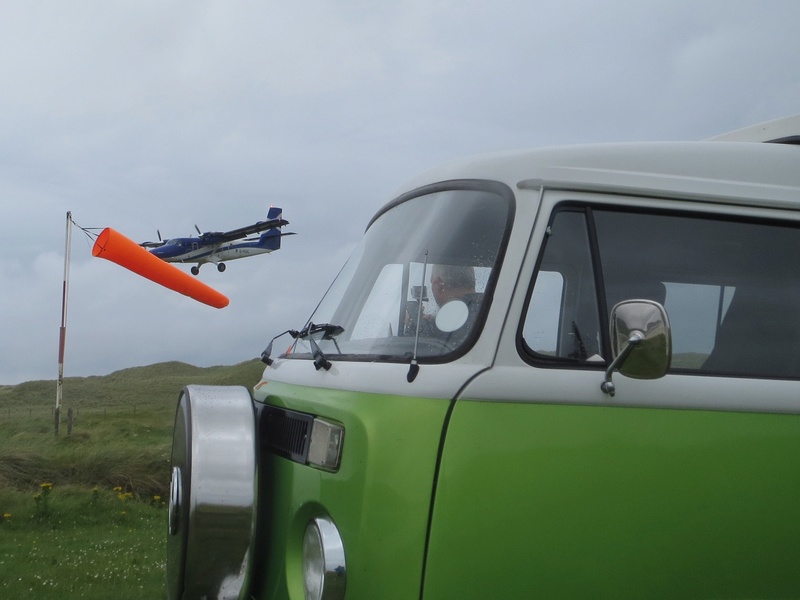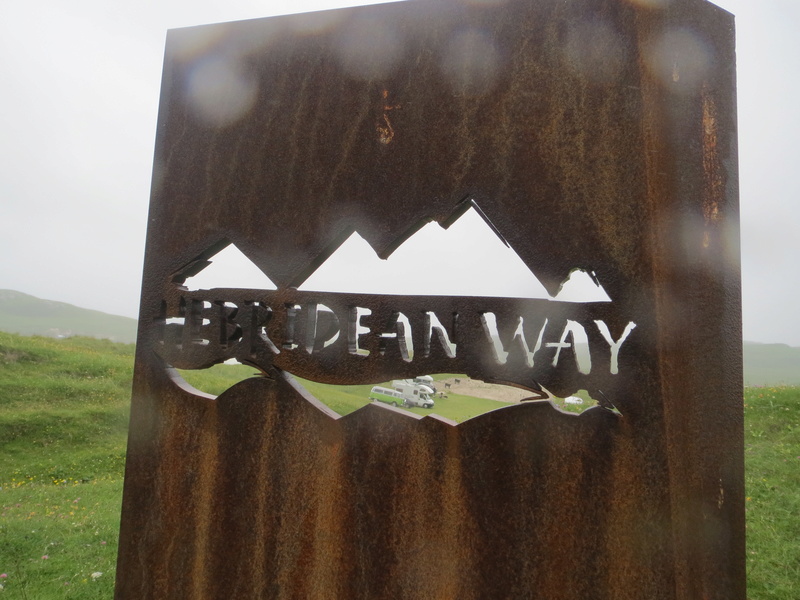 We stayed on Barra for 2 nights which was more than enough time to see Vatersay.  Time for the ferry to Eriskay...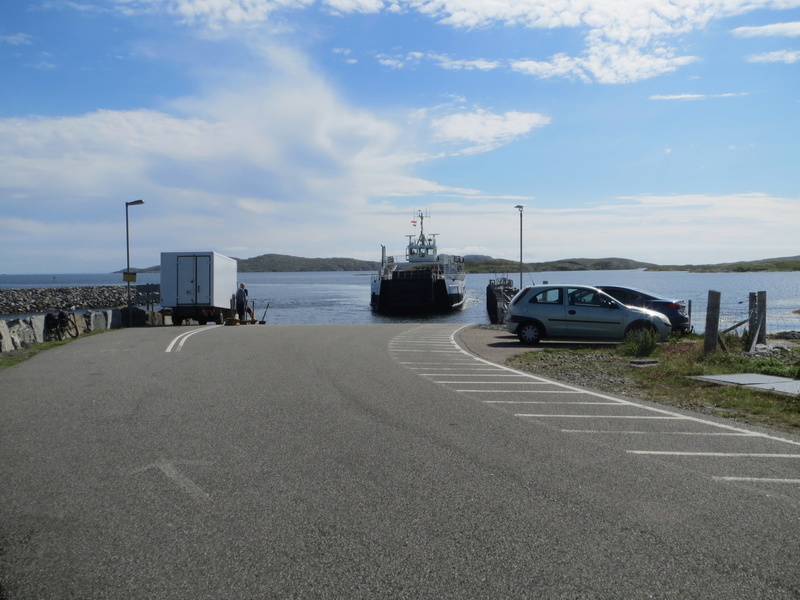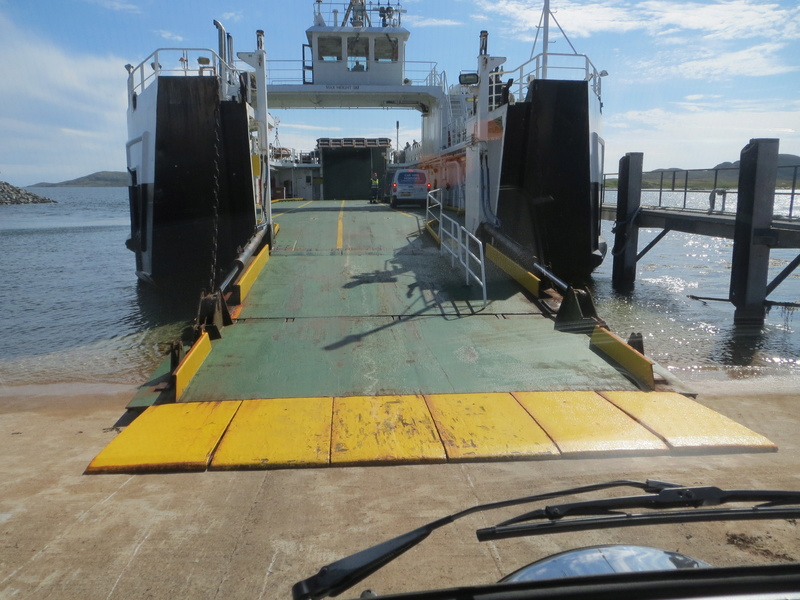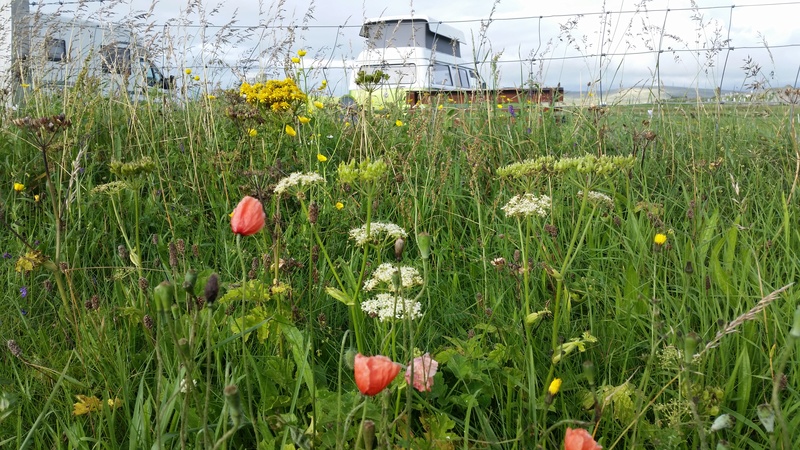 We stayed at Balranald on North Uist for 3 nights - http://www.balranaldhebrideanholidays.com/index.aspx The campsite was definitely a step up from Croft183, a new toilet block and the owner also ran a wee coffee and burger van on site.  The site is on a RSPB Nature reserve and on the other side of the dune is a huge beach that the dogs loved, and probably chased all the birds - ooops
Beware of the flies thought, they were massive and everywhere, the campsite owner said at that time of year you could either have flies or rain, by day 3 I would've been happy with rain!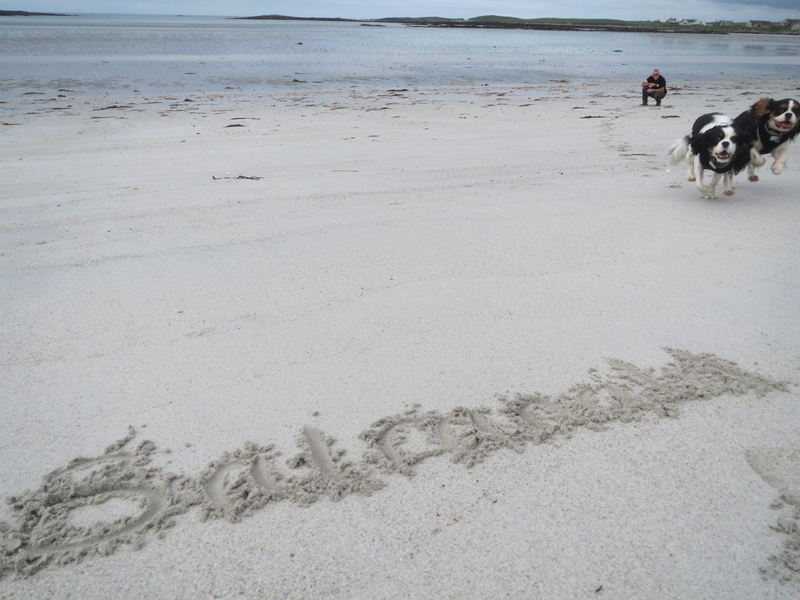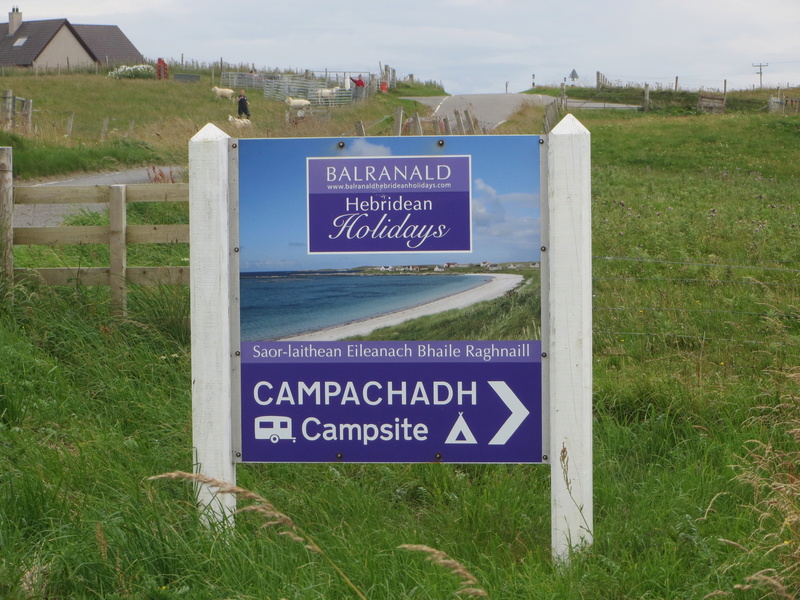 Eriskay, South Uist, Benbecula and North Uist are all connected by causeways.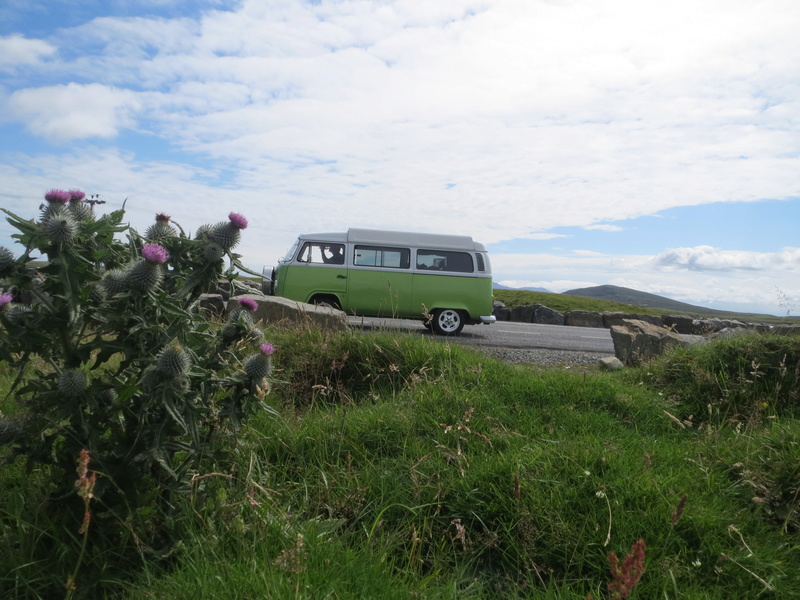 We picked up a food trail leaflet when we were on the Oban ferry and needless to say we ate very well! Time for the ferry to Harris and Lewis...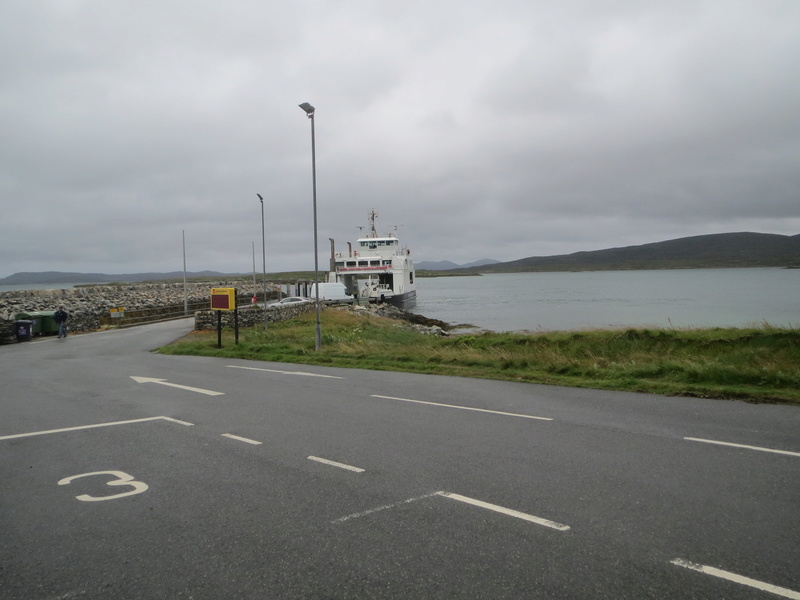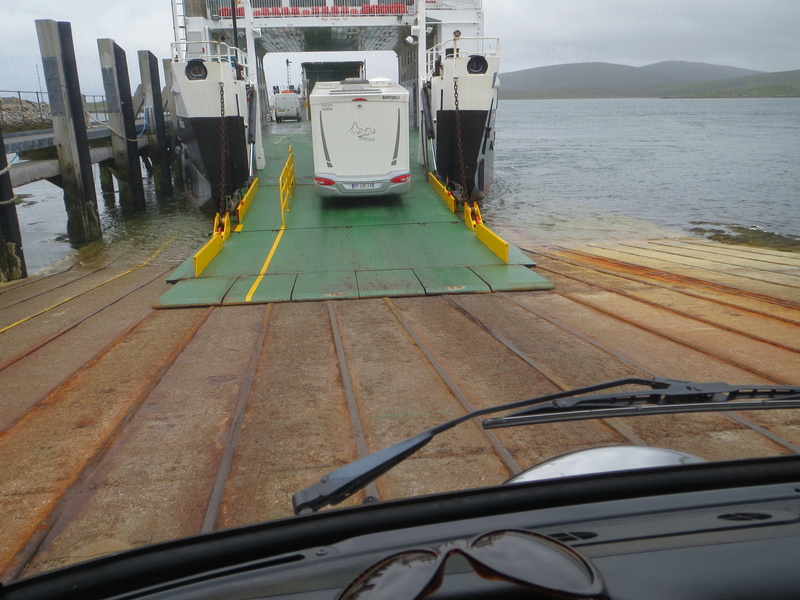 The weather wasn't so good for this crossing, so Jane was pleased to reach dry land!
We stayed at Flodabay - http://flodabayfarm.co.uk/welcome-to-flodabay-farm/caravan-park/ - you have to book ahead to stay here.  It was a beautiful site, no facilities just a hosepipe to your pitch and a chemical disposal point - don't get the two mixed up  
 If you stay 2 nights, you can pre-order a seafood platter that Tony the owner cooks for you and delivers to your van! On arrival Tony meets us and we arranged a time for the seafood platter the following night, Tony apologies as he hasn't caught any crab so would a lobster be okay?! Mmmmm, I suppose....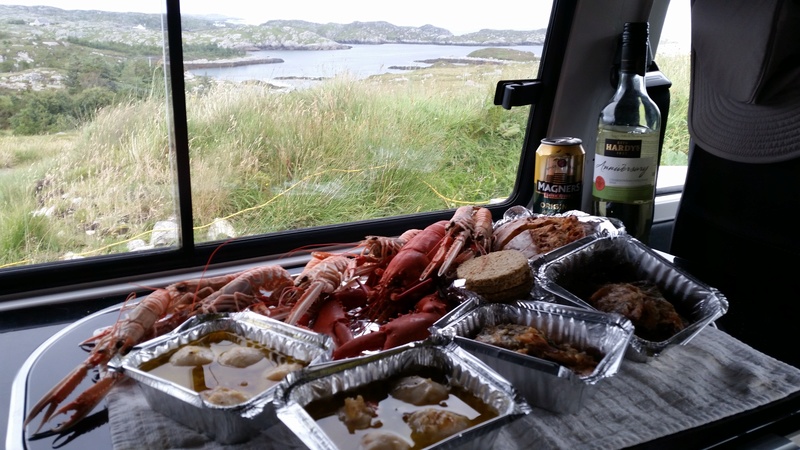 Campervan food at its best!
The site was amazing.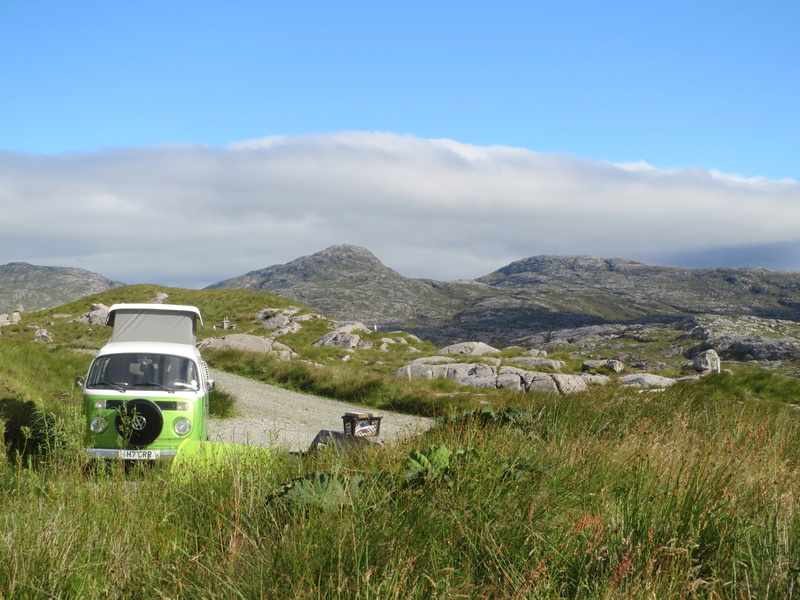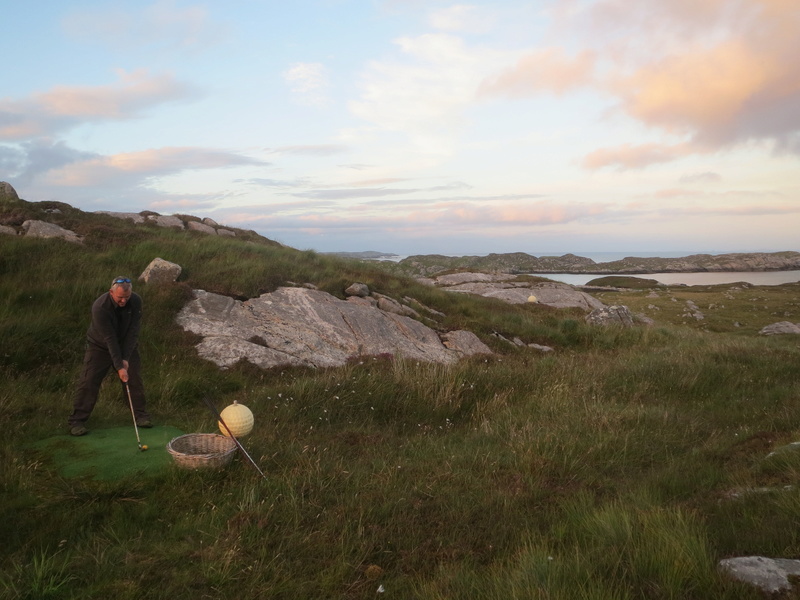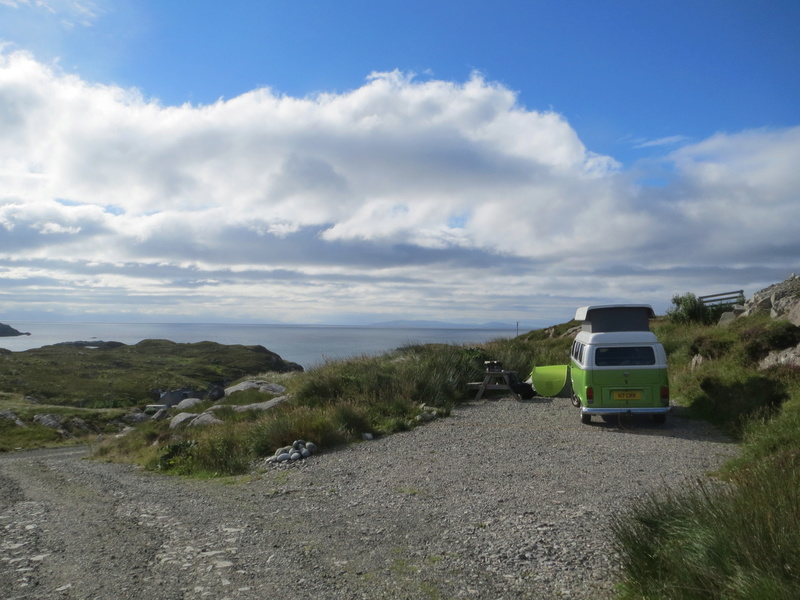 We stayed 2 nights on Harris, but to be honest 3 would give you more time to travel round Lewis at a more leisurely pace, there are lots to do and see.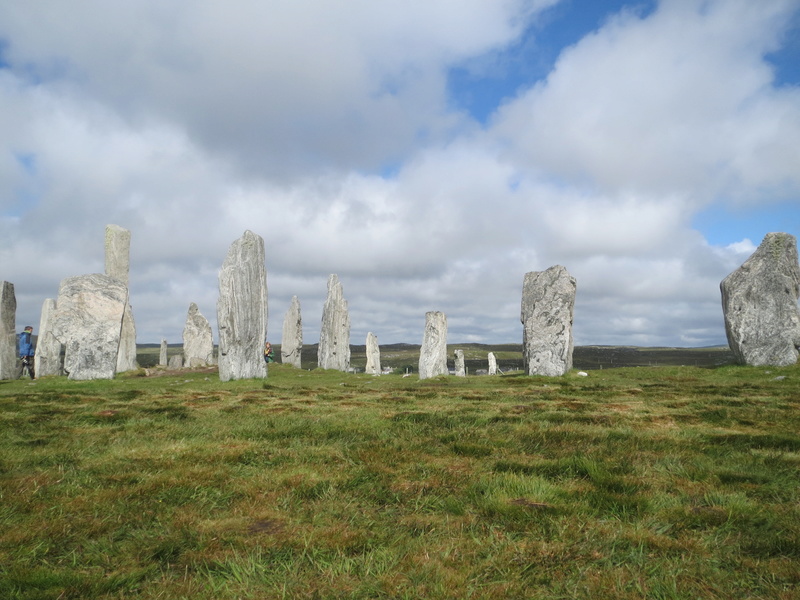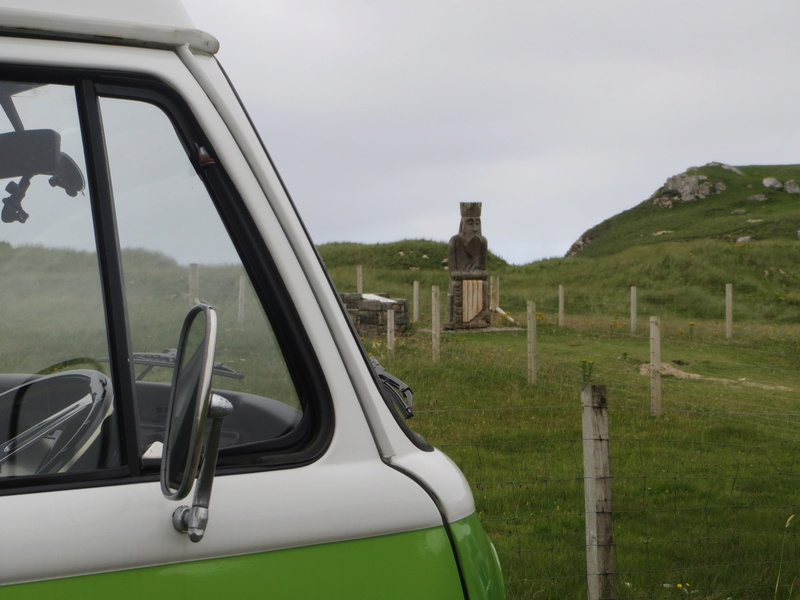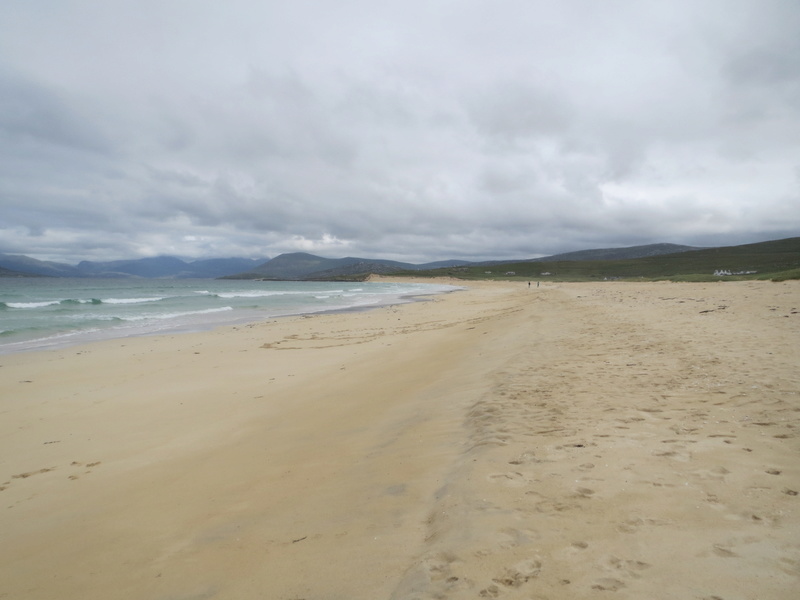 The beaches are amazing.  Time for the ferry to Skye...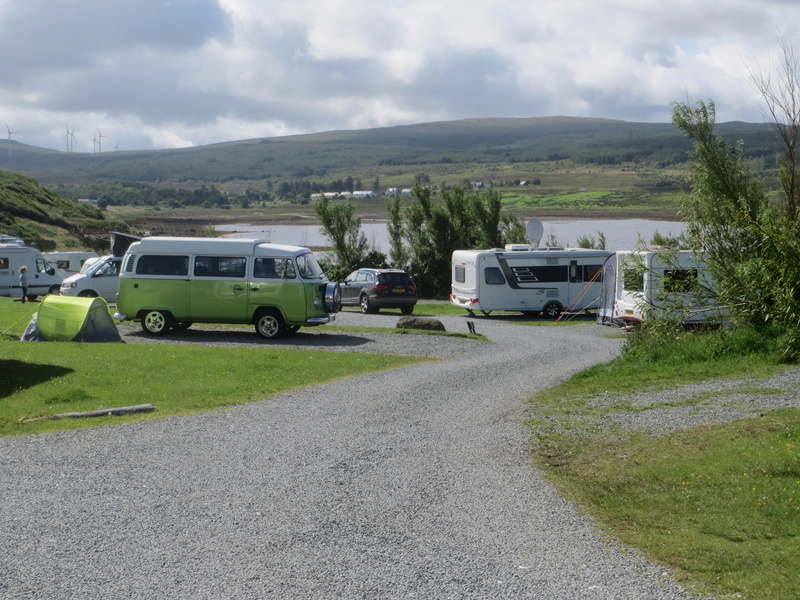 We stayed 3 nights at the Caravan and Camping club site on Skye.  We booked advance and they warned us that a Belgium caravan owners club would be there the same weekend, it was interesting to see groups of people take camp chairs, gather around a gazebo with drink in hand and hand out awards on the Sunday morning!  Can't imagine BrazilanVWBays doing that  
Skye just seemed so big after the quietness of Harris, there were tourists everywhere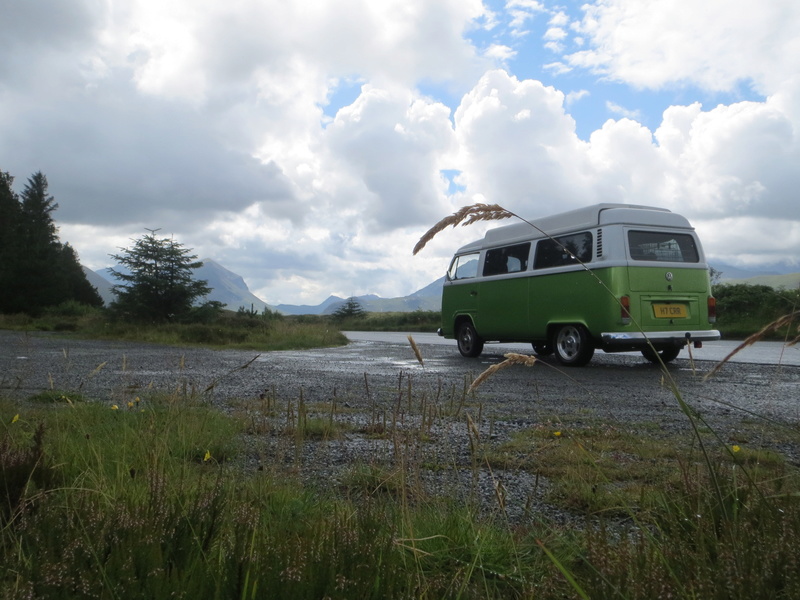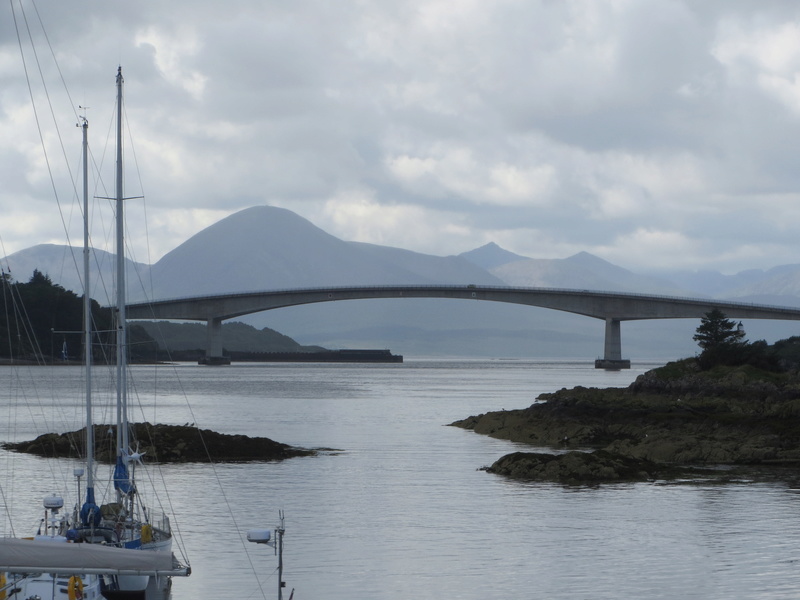 Honest that's our bus on the Skye Bridge!
Finally it was time to get the ferry back to Mallaig...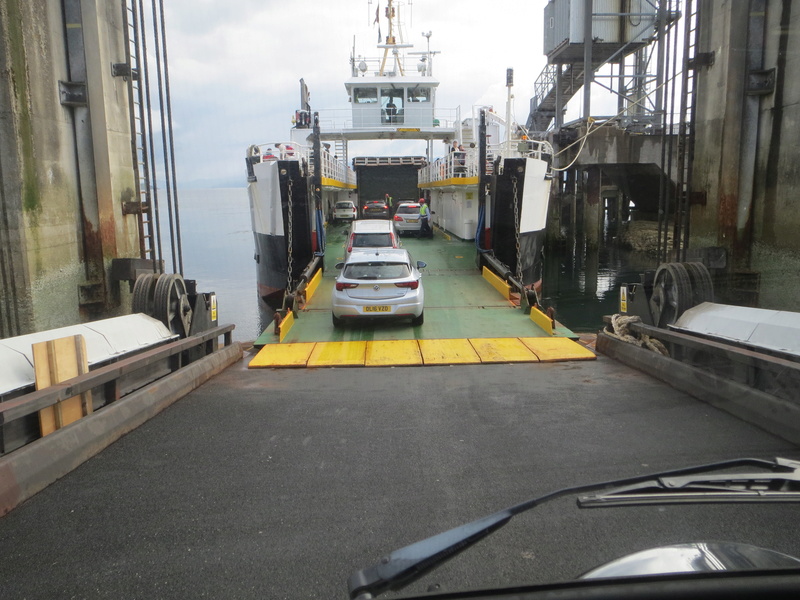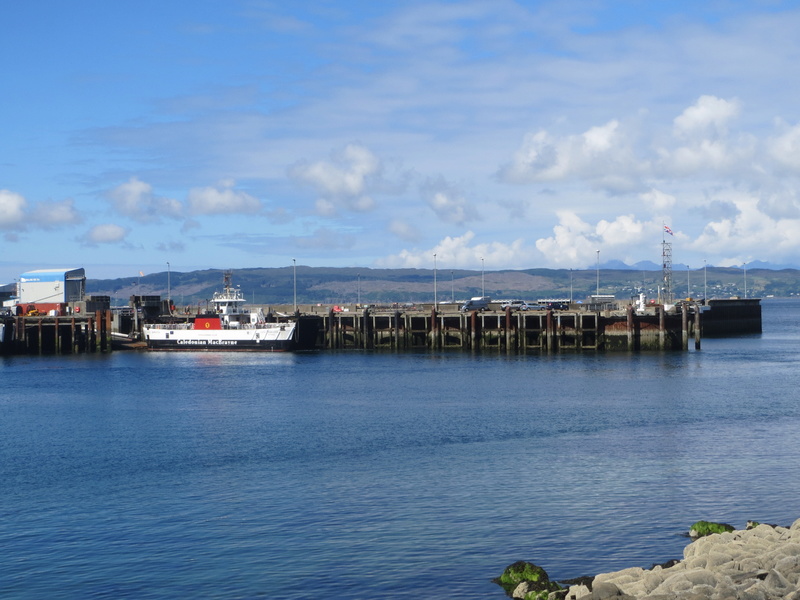 A very worthwhile trip and one that we'd do again in future.  We booked Hopscotch 23 ticket which covered all the crossings within a month time limit.  Jane likes to know what's happening so we booked all our ferries and campsites in advance.  And there was no way we'd get on or off the ferries if we were still lowered, so the manic 3 days fitting new suspension was worth it!
Thanks to Dalesman and Absinthe for their previous reports and MarcusH for supplying much needed suspension parts whilst suffering greatly from man-flu!
Now thinking about summer 2017!